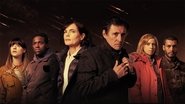 War of the Worlds online sa prevodom
Serija War of the Worlds sa prevodom sve epizode
Serija War of the Worlds online sa prevodom besplatno u HD. Sve epizode War of the Worlds sa prevodom online gledaj sad.
Astronomi su otkrili signal iz druge galaksije i to je neoboriv dokaz o postojanju vanzemaljskog života. Stanovništvo širom sveta nestrpljivo čeka sledeći kontakt. Ali ne zadugo. Za nekoliko dana, vanzemaljci su gotovo izbrisali civilizaciju sa Zemlje. U jezivo napuštenom svetu, ostali su samo tragovi čovečanstva.
Dok vanzemaljci love i ubijaju sve pred sobom, preživeli su ostavljeni sa najvažnijim pitanjem: Ko su ovi napadači i zašto su odlučni u nameri da nas unište? Emotivno i kinematografski zasnovana na dobro napisanim likovima, serija "Rat svetova" jedinstvena je kombinacija ljudske drame i najbolje naučne fantastike.
Ovo je priča o običnim ljudima u neobičnim situacijama, koji nisu samo žrtve okrutnog rata. Kako ćemo i saznati, vanzemaljski napad nije slučajan, njegovi razlozi se dešavaju pred našim očima.
Originalni naziv
War of the Worlds
IMDb ocena 7.366 729 glasova
Prva epizoda
Oct. 28, 2019
Zadnja epizoda
Sep. 26, 2022
Trajanje epizoda
47 minuta